Shrewsbury, Mass. —Commonwealth Medicine's (CWM) Senior Associate Kristin Killeen is part of a multi-agency team recently honored with a coveted Manuel Carballo Governor's Award for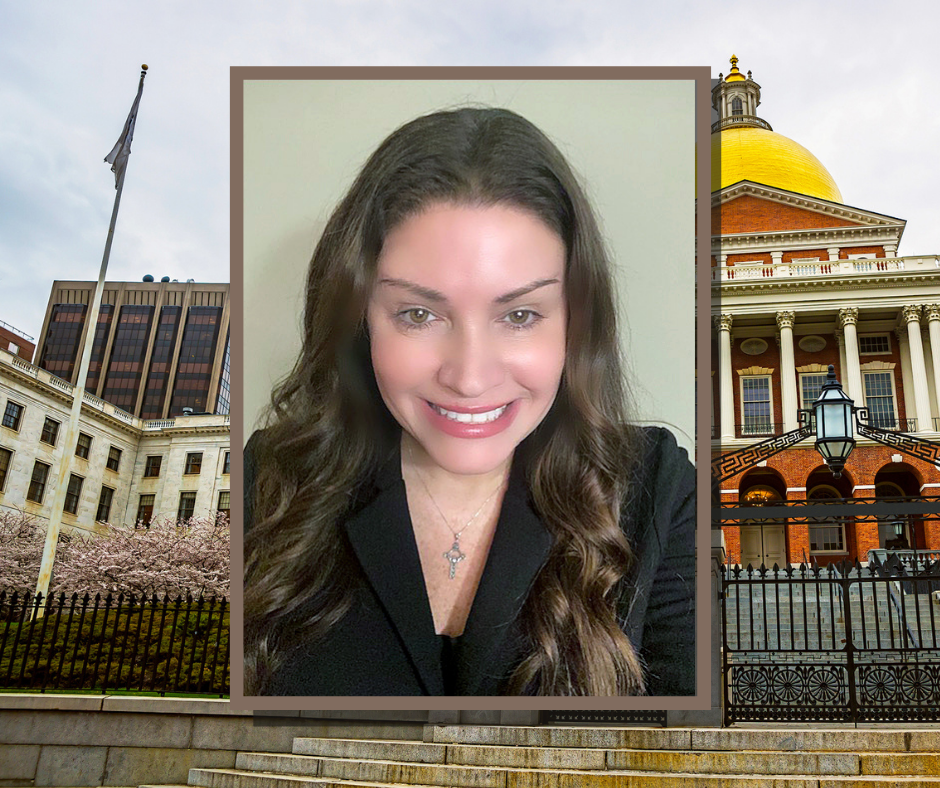 Excellence in Public Service for performing critical work during the pandemic.
When COVID-19 hit Massachusetts last March, CWM was repeatedly called upon to provide consulting and operations expertise ranging from supporting state facilities to manage through the pandemic to ensuring emergency funds were available to families needing food assistance.
Killeen, who works in Healthcare Finance Solutions, led a CWM team, in collaboration with the Department of Transitional Assistance and the Department of Elementary and Secondary Education, to create thousands of Pandemic-EBT cards for families across Massachusetts in urgent need of food assistance. Pandemic-EBT is a federal program created in spring 2020 to provide additional funds for families to buy food while schools were closed due to COVID-19.
"I am so grateful to be part of the team that is receiving this award," said Killeen. "I was glad we could help accomplish our shared mission of improving people's lives, especially during such a difficult time."
The Manuel Carballo Award is named in honor of the late secretary of human services. It is given annually to employees or groups of employees who demonstrate the highest standards of public service.
"Kristin, along with her CWM team members, exemplify the strength of our ability to engage and collaborate to support the Commonwealth in supporting those who rely on public programs in difficult times," commented CWM Executive Vice Chancellor Lisa M. Colombo, DNP, MHA, RN. "I am so proud of everyone at Commonwealth Medicine for providing operational expertise and program support to healthcare and human services organizations across the country."
2020 Commonwealth Citations for Outstanding Performance
Commonwealth Medicine's leadership and teams of experts have also been honored with six 2020 Commonwealth Citations for Outstanding Performance. These acknowledgments from Massachusetts again recognize CWM's extraordinary efforts in helping the state meet the health and human service needs of its most vulnerable citizens during the early stages of the COVID-19 pandemic.
Establishing a Command Center
When COVID-19 began spreading throughout the Soldiers' Home in Holyoke, Massachusetts, in March, state officials appealed to Colombo for help. Colombo, along with Mark Sugrue, RN-BC, MSN, FHIMSS, managing director, Clinical Delivery & Informatics Solutions, responded immediately and remained embedded full-time at the Soldiers' Home for several weeks. Drawing on their experience and expertise in healthcare administration and nursing, Colombo and Sugrue tackled one of the most significant challenges of their careers. Serving as Incident Command Leader, Colombo led a team that included Mohammad Dar, MD, of CWM's Office of Clinical Affairs, plus the UMass Medical School Graduate School of Nursing, the Massachusetts National Guard, and others to develop and implement strict new safety protocols to stop the spread of COVID-19 and create safe and comfortable living quarters for veterans and their caregivers.
Securing Personal Protective Equipment for Screening Sites
As the pandemic began to take hold, personal protective equipment for frontline workers was in critical demand. At the time, Betty Ann MacDonald, managing director of Business Transformation Solutions, was among the CWM staff and senior leaders working to support state agencies in executing their COVID-19 response plans. With her knowledge of operations and project management, MacDonald was able to secure contracts with the Massachusetts Emergency Management Agency for necessary personal protective equipment that enabled multiple tent screening sites to be established around the state.
Implementing New Eligibility Regulations
In March 2020, new federal regulations provided states with expanded eligibility and flexibility for benefits during the COVID-19 emergency. To take full advantage of these new rules and the enhanced federal revenue opportunity, MassHealth (Massachusetts Medicaid) needed to implement systematic and operational changes as quickly as possible.
The CWM Health Insurance Exchange (HIX) Eligibility team, key contributors to the larger MassHealth eligibility team, began its work with a thorough analysis of the new regulations and determined what systems and processes needed to change. The cross-organizational team developed and implemented multiple programming, data analysis, and reporting solutions — and, where necessary, innovative workarounds to ensure full regulatory compliance. A newly developed dashboard enabled MassHealth to track its expanded caseload and ensure that no member was negatively impacted. This team's efforts made it possible for MassHealth to maintain benefits for more than 150,000 members with minimal impact on operations.
The CWM HIX Eligibility team members on this initiative include Michelle Comeau, Judy Fleisher, Michelle French, and Kristin Lightbody.
Helping to Provide Financial and Food Support When It Matters Most
The COVID-19 pandemic resulted in a dramatic increase in residents' need for food and financial assistance. To keep up with the increased demand, the Massachusetts Department of Transitional Assistance turned to CWM to support the agency's EBT card printing and mailing team. In a matter of weeks, the CWM team produced and mailed nearly 100,000 benefit cards, delivering critical financial support when it mattered most.
Pandemic-EBT
The same team also helped create the card for the new federal program, Pandemic-EBT, that provides food supports for families with children. By September, Massachusetts provided aid to more than 470,000 students and their families.
Team members for both projects include Todd Chapman, Makayla Gallant, Kristin Killeen, Alyssa Lopez, Sarah Malloy, Luis Melendez, Andy Nguyen, Chris Player, and Tanya Skypeck.
Responding to An Urgent Need for Healthcare Staffing
At the height of the pandemic's surge in spring 2020, Massachusetts needed to recruit qualified healthcare professionals and volunteers to staff a network of more than 300 care facilities around the state designated to help relieve overcrowded hospitals and stabilize COVID-19 patients. Massachusetts Executive Office of Elder Affairs Secretary Elizabeth Chen made an urgent appeal to CWM for support services.
In less than a week, an interdisciplinary team from CWM, the UMass Medical School IT Department, and the Massachusetts Executive Offices of Health and Human Services (EOHHS) and Elder Affairs (EOEA) developed and launched the staffing portal. Information about the initiative and portal was promoted through Governor Baker's COVID-19 press conferences, the COVID-19 text alert system, and social media.
Since the job portal came online, more than 480 nursing and assisted living facilities and nearly 5,000 healthcare professionals and volunteers have registered for job matches. The portal remains active with 20,000 open positions for healthcare professionals, healthcare students, people looking to start a new career, and volunteers.
The CWM team was directed by Leanne Winchester and included Lisa Marschke and Louise Gorham from CWM; Michael Lamson, David DeForest, Swathi Kandula, Susan Girard, and Bakul Sakhrekar from UMass Medical School IT; and EOEA Secretary Chen and EOHHS Senior Director of Healthcare Workforce Policy Patricia Yu.
"I'm so grateful to all of our employees who continue to step up during the COVID-19 pandemic," said Colombo. "The projects we're supporting and implementing, in Massachusetts and around the country, many in record time, reflect CWM's operational, clinical, and policy expertise, and our commitment to public health."
Our Solutions 
Commonwealth Medicine continues to provide solutions for state and federal entities. Our teams are developing new protocols to stop the spread of COVID-19, conduct research on federal and state policy changes to support behavioral health providers, produce training videos, and provide operations expertise, strategic planning, project management, data analytics, and resource deployment and implementation.
About Commonwealth Medicine
Commonwealth Medicine is the consulting and operations division of the University of Massachusetts Medical School. It draws on the academic knowledge and public health service expertise of Massachusetts' only public medical school to provide comprehensive, innovative healthcare and policy solutions. Commonwealth Medicine is guided by a mission to empower its partners – in-state and out-of-state agencies and healthcare organizations – to transform lives by optimizing the effectiveness of healthcare initiatives that assist the underserved in their communities.