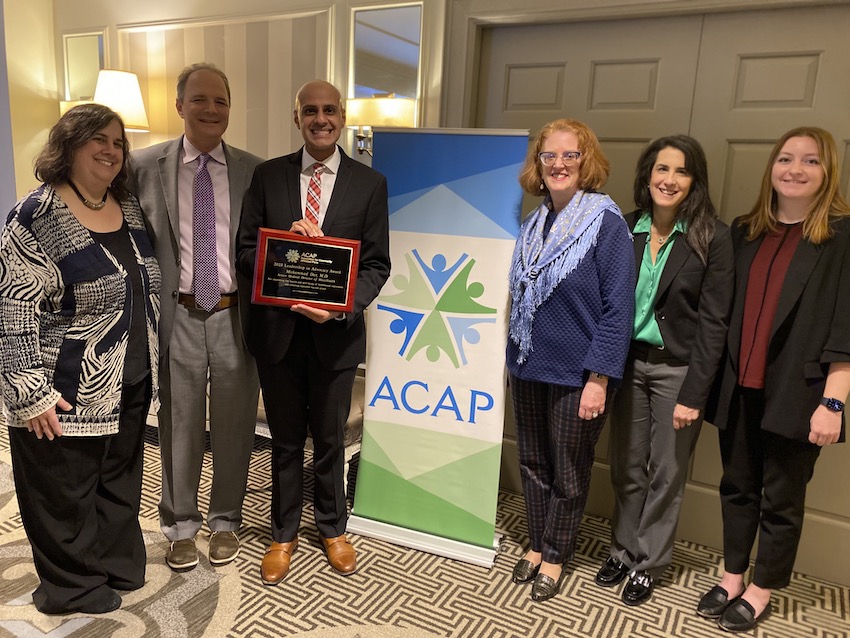 Mohammad Dar, MD, senior medical director of Massachusetts Medicaid (MassHealth) and chair of the National Medicaid Medical Directors Network, was recognized by the Association for Community Affiliated Plans (ACAP) with its annual Leadership in Advocacy award.
ACAP states that the Leadership in Advocacy award recognizes "individuals whose efforts on behalf of enrollees in Medicaid, Medicare Duals programs, CHIP, Marketplaces, and other safety net programs clearly exceed the norm and whose actions, in partnership with an ACAP plan, have positively affected the lives of the people we serve."
The MassHealth senior medical director role is part of the Office of Clinical Affairs, a unit within ForHealth Consulting™ at UMass Chan Medical School, which supports the MassHealth program.
Dar was nominated for the award by Commonwealth Care Alliance® in recognition of the role he played in helping establish the country's first statewide in-home vaccination program for Massachusetts residents, according to an ACAP press release.
"I am thrilled that Mohammad was recognized for his work in supporting MassHealth members and vulnerable Massachusetts residents," said ForHealth Consulting's Executive Vice Chancellor Lisa M. Colombo, BNP, MHA, RN. "As a result of the Massachusetts In-Home Vaccination Program, more than 10,000 individuals—who may have otherwise been unable to—were vaccinated."